Development (Townhouse and Unit)
Jamieson St, BULIMBA
We have recently completed a townhouse development in Bulimba, QLD. The development consisted of the construction of 8 new townhouses accessed by a common driveway. Each townhouse features 3 bedrooms, 2 bathrooms, lock up garage, private entertainment areas, open plan living and quality finishes.

.
.
.
.
.
.
.
.
.
.
.
.
.
.
.
.
.
.
.
.
.
.
.
.
.
.
.
.
.
.
.
.
.
.
.
.
.
.
.
.
.
.
.
.
.
.
.
.
.
.
.
.
.
.
.
.
.
.
.
.
Wambool St, BULIMBA
We have recently completed a development in the stylish suburb of Bulimba, QLD. The development consisted of the construction of 6 new units and the renovation of an existing timber weatherboard house.

The development made headlines in the QLD Courier Mail Real Estate October 2014 issue prior to commencement construction with the headline "OLD AND NEW SHARE VIEWS". This article highlighted the integration of the new unit construction and the renovation of a 100-year old house.
The location of this development was a strong selling point as it was located very close to the vibrant Oxford Street precinct, within walking distance of restaurants, public transport, cinema and supermarket, and also had uninhibited breathtaking views of the Brisbane CBD.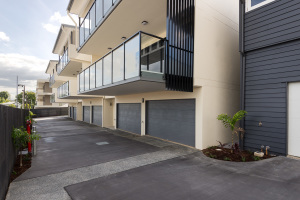 THE UNITS: 
The units are all 2 bedroom, 2 bathroom and 2 car park units,with considerable storage space and large private balconies. The design of the units gave each living area a seamless flow and open-plan feeling. The units incorporate timber in their kitchens and study, and a timber-look tile in the bathrooms, giving a contemporary feel whilst integrating the design with the modernised timber house.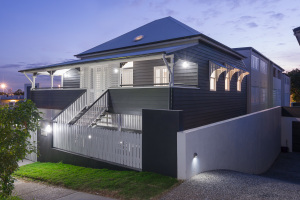 THE HOUSE:
Situated on its own land title, featuring original timber flooring, a gorgeous large kitchen any chef would be proud of, a smaller downstairs kitchenette and 3 designer bathrooms. The timber staircase and bi-fold windows in the dining area create lovely picture highlighting the vast view of many of Brisbane elite suburbs and the CBD city skyline. The front balcony has been restored to showcase the detailed Federation style trims, French Doors and lattice work.  The house also incorporates a huge garage which easily stores 2 large cars and has plenty of additional storage room.
Construction of 6 new units in Bulimba:
Trackson St, ALDERLEY
The 4-townhouse development was completed in late 2017 featuring a restored Queenslander and 3 new 3-story units. This development used modern colour tones and lighting, along with a well-designed open plan living layout to capitalise on space and functionality. The units all have sweeping views of Brisbane city and the northern suburbs. The kitchen features timber veneer joinery and stone benchtops. Grained timber flooring is installed throughout all units, and neutral tiling on lower levels. This townhouse construction also has spacious outdoor areas, grassed lawns and deep and lush gardens proving to be very family-friendly.
.
.
.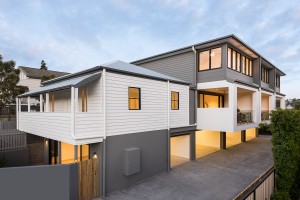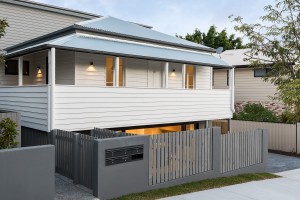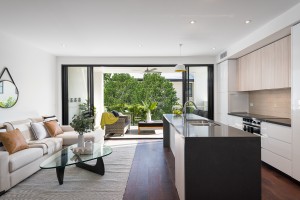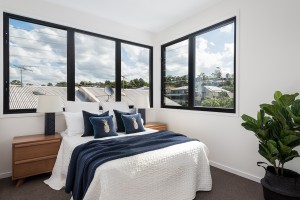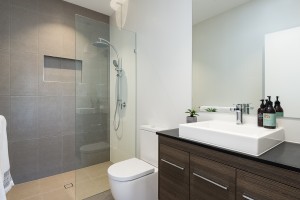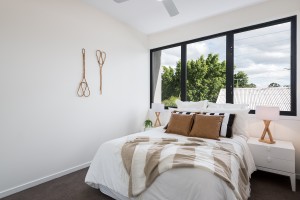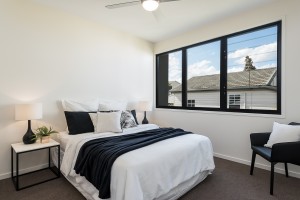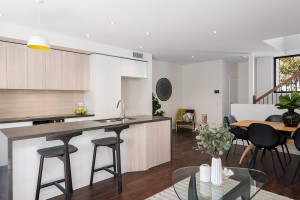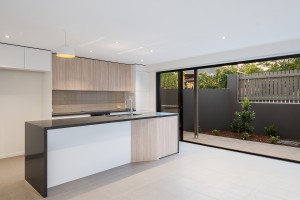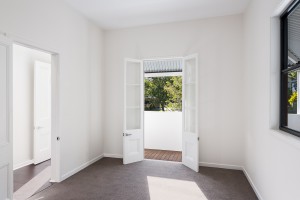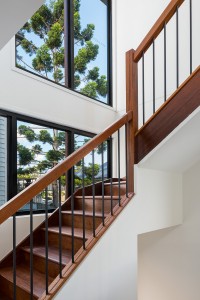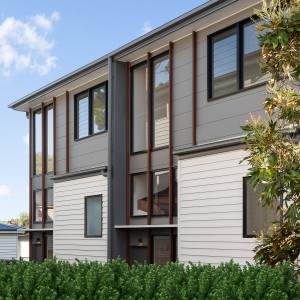 .
.
.
.
.
.
.
.
Oxford St, BULIMBA
This project brought together a skyhome, office tenancy space, multiple retail spaces and a lower level underground concrete carpark. This development was done a an extremely busy street, Oxford Street, in Bulimba, QLD. This Bulimba precint is one of Brisbane busiest and elite chic hubs, perfectly surrounded by 3 schools nearby and amazing city views from every angle. The design and quality of finishes here are second to none! One of the best and most expensive residential projects we have been lucky to construct in Brisbane.
The finishes and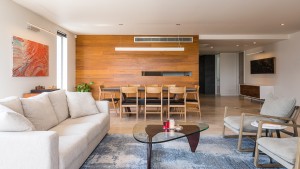 of design, and quality of execution speak for themselves.