Gordon Park house renovation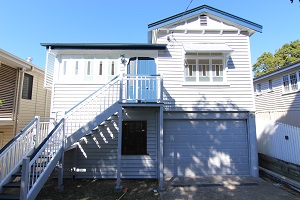 VATI Projects recently completed a full house renovation in Gordon Park to restore life, beauty and elegance into what originally could be called a "fixer-upper".
The original 2 bedroom 1 bathroom house has undergone an amazing transformation including:
– 2 new bedrooms (4 in total)
– new bathrooms (now 2 bathroom plus powder room – a great value-add for every family)
– restoration and polishing of the old timber flooring
– rejuvenation of the original VJ walls which look amazing (they were a painful task to individually gap and paint, but so very worth it in the end)
– a new modern kitchen with bi-fold servery window access to the deck
– now two separate living areas
– installation and polish of new internal Kwila staircase
– and a lovely repaint & overall spruce up
We especially loved the new timber stained windows installed downstairs which keep the overall elegant continuity and consistency to the upstairs original timber windows and frames. Great care was also taken to preserve, rewire as required, and re-install the original light fittings which really keep the original character of the house.