Construction Site Theft – Southwest News Article
As a local Brisbane Southside Builder, VATI Projects has been approached by Southwest News editors to provide insight into construction site theft – check out their article published in the 09/09/15 newspaper below: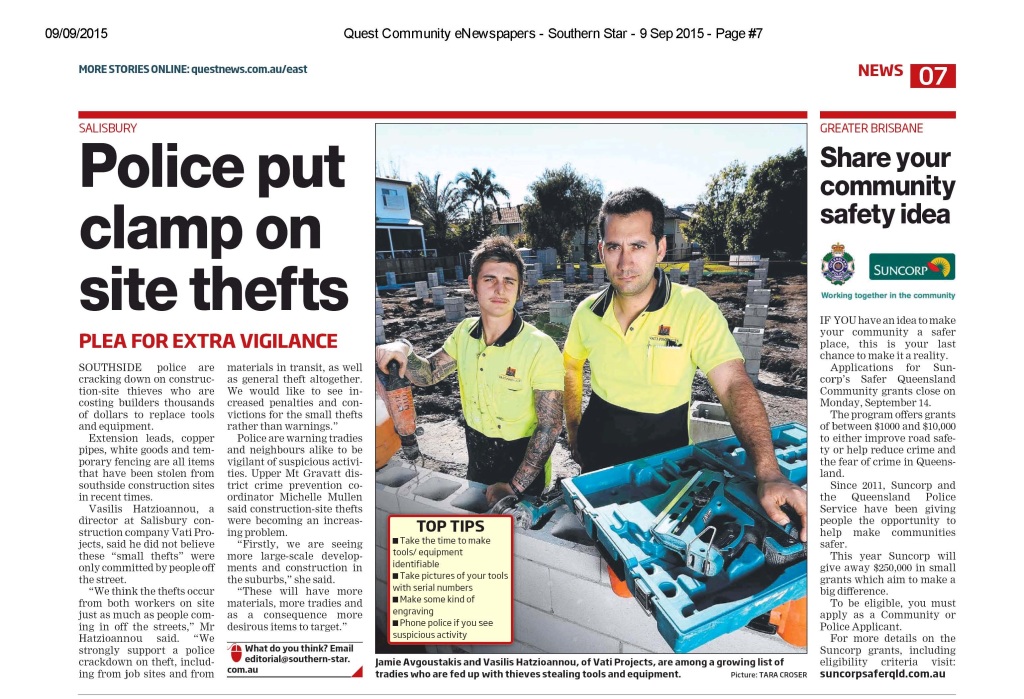 Construction Site Theft is ever-increasing in Brisbane and South East Queensland. We doubt any large construction site would ever reach project completion without at least one theft from site of materials, tools or equipment.
Theft from construction sites is so rife, our guys have had tools & equipment stolen off site & out of their utes. Also we (as the builder) have had lots of theft from our jobsites such as fixtures & fittings, copper wire pulled off walls once installed, taps, building materials, but definitely the MOST memorable theft was when we were completing a unit development for a client, someone had gone inside the units to the second floor, and unbolted a dryer which was hung and plugged into the wall (at head height), and stolen it out of the laundry cupboard.
In addition, there are a lot of small items that go "walk-abouts" never to be seen again, but they all add up and it simply costs us the builder, a lot of money.
The director has previously worked on a site, where the landscaping works were just finished for a townhouse development, and overnight someone came in and pulled all the plants out of the ground and just took them. There were thousands of dollars of plants stolen which had to be reordered and pay for again.
We've even had someone go to a job site of an afternoon (within a 3 hour window we can determine) when the site was secured by temporary fencing, and locked, and steal the temporary fencing panels that were actually securing the jobsite. When we reported it to police, they were quick to increase patrols, but in the end, once stolen it was never to be seen again. Yet another unnecessary cost to the builder.
We strongly support a police crackdown on theft, including from jobsites and from materials in transit, as well as general theft altogether (for people, cars, houses). We would like to see increased penalties and convictions for the "small theft" rather than warnings. It costs businesses, workers, and clients a lot of money on every job, every year.