5 Things to Consider When Building a Small Commercial Carpark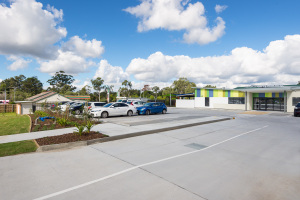 Building a small carpark isn't as simple as just booking a concrete truck (or ten). Various materials and aesthetics, along with proper design must be considered to ensure functionality, efficiency and cost minimisation is achieved. This article is written to provide general guidance only based on our prior jobs and experiences, for one-level ground or suspended slab car-parking only. Multi-storey and underground basement car parking has not considered in this article.
We have brought together some valuable information for consideration prior to engaging in car park design and construction. Through our vast experience as a Brisbane carpark construction specialist, we have achieved numerous examples of great functionality, design, construction and costings for our clients, a few of which will be mentioned below for example.
Purpose
Obviously the main purpose of the carpark is to provide spaces for staff and/or customers to park their cars… but have you considered the other purposes of a carpark including:
Garbage and refuse access – the carpark may need to accommodate the bins and allow garbage truck access. The location of bins within in the carpark also requires consideration, you don't want them close to the building entrance, and you need to ensure access is available for staff or cleaners to safely access these daily, and a garbage truck to access weekly.
A clean neat path from carpark to building entry – we like to advise clients with the following scenario for consideration:
"Imagine a valuable customer or client is due to arrive. It's a hot, sunny 40-degrees day. Or a raining, windy and storming day. Or 9pm on a weeknight for an out-of-hours meeting. Your carpark is the FIRST point of impression the client will have on the way to the building. How will this affect your business?"
Based on the above, you may consider shade sails, a fixed awning, landscape trees, a concrete or asphalt carpark (as opposed to loose gravel or dirt/mud), security lighting, ramp or disability access, and line marking (extremely helpful for providing a visibly safe walkway to the building entrance, as demonstrated in our construction of the Eastside Early Learning Childcare centre).
Design
The design of the carpark is important to effectively and efficiently provide the functionality required after considering all items noted above. In addition, you want to maximise the number of carparks in a given space, ensuring there is adequate room to navigate into the carpark from the driveway.  For a larger area, the use of tandem carparks for staff parking is useful to avoid the potential waste from having multiple lanes between parking rows.
It is always recommended that an engineer design the carpark, to factor in water runoff, landscaping, foundations, load, and material used. In addition, you should always check with local councils or planning authorities as to the development or building approvals required before construction commences.
As a client's first impression to your business is the carpark, you should aim to ensure it is aesthetically appealing, and has an uncluttered feel. Minimal but effective landscaping can be used to provide a more comfortable area.
Construction Materials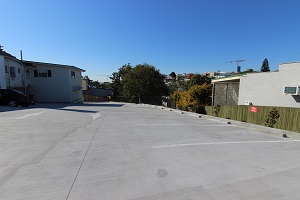 We always recommend constructing with the engineered design and materials qualified in the engineer's report and any development approval package as advised by local authorities. We have listed below a few differences in the construction materials available for information only.
Loose Gravel – this is by far the cheapest, easiest quickest material to form a carpark with. As it is loose, it is forgiving when laid on land with slight imperfections such as potholes. Issues may arise with the size of gravel used, and the potential dust it could stir and movement when driven on. In addition, it is very common to have weeds or grass sprout through and a constant inconvenience to keep tidy.
Asphalt – this can be cheaper than concrete depending on carpark size. It is easier to repair and resurface if damaged. It is susceptible to cracking when laid in larger areas due to natural movements in the ground (more prevalent in times of drought & rain where the earth shrinks and expands). It is also susceptible to potholes with heavy traffic and large amounts of rain. It is flexible and not slippery, and provides good gripping for steep driveways. It is best laid on the ground following earthworks and rolling. Asphalt is argued to be the most resistant to weeds as there generally are less cracks than concrete.
Concrete – the can be comparable in price to asphalt at times depending on size (smaller sized carparks are comparable), however generally is more expensive for larger carparks including shopping centres, office blocks, warehouse carparks etc. Concrete is also a more durable "harder" product and requires less maintenance. It is also 100% recyclable, and more reflective of lighting than asphalt (marginally better for reflection of security lighting). With regular vehicle use, concrete's lifespan is up to 50 years, whereas asphalt is approximately half of that, with a lifespan up to 20 years, requiring resurfacing thereafter (based on research papers from Massachusetts Institute of Technology's Concrete Sustainability Hub http://web.mit.edu/cshub.) Concrete carparks also allow for easy kerbing and line marking.
Generally, most of the carparks including suspended carparks we have aided in the design, and constructed in Brisbane are concrete carparks and driveways. We do however support the use of asphalt and loose gravel, where it is the best suited option for the premises. Each project is different and individual and should be considered on its own merits.
Earthworks
Building any carpark often requires significant earthworks, to ensure the levels are correct to allow safe movement of vehicles and to ensure it is free draining.  The ground is compacted and trenches are dug to accommodate electrical, plumbing and stormwater requirements pre-pavement.
Construction Cost & Time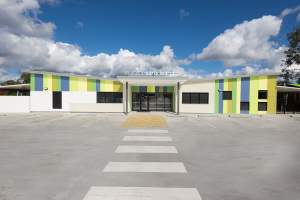 As mentioned above, cost is heavily dependent of the type of construction material used. Additional cost considerations need to be given to the ancillary items required for the carpark construction, including design fees, council fees, certifier fees, earthworks, project management fees, plumbing and electrical works if any, stormwater works, kerbing, landscaping, linemarking, sealing if required, disability access or tactiles, bike parking racks, and lighting if required.
In relation to timing, generally the timing of earthworks and electrical/plumbing completion is the same irrespective of material used. The curing time required before use is marginally quicker using asphalt compared to concrete.
If you have any carparking requirement in the Brisbane, Gold Coast, Ipswich, Sunshine Coast or bayside regions, please feel free to contact us at VATI Projects for a free initial consultation and site meeting. We are happy to discuss your requirements, timeframes and budget to help you achieve the best possible solution for your business.